Client FAQ Sheet on How to Function within the APP Online Teachable School
APP Pack Online Courses Frequently Asked Questions
Q. What am I getting with the Agency Performance Pack Online?
A: You are getting access to all of our online training courses for your team in one easy to access bundle. This includes AppX Retention, AppX Sales, and AppX Time Management. Check out the details here: https://agency-performance-pack.teachable.com/
Q. Once I am signed up, how do I login?
A: Please make sure you check the box that reads "I agree to received instructional and promotional emails "
Once you have signed up with the best package/pricing that fits your needs you will receive a welcome email notification with your login information.
Q. What if I do not receive any login email notifications at all?
A: Please visit https://agency-performance-pack.teachable.com/
When you are here go to "Login", enter your email address, and then "Forgot Password". This will re-activate your login information and you should receive the emails to simply reset your password and login thereafter.
Q. What is the best internet browser to use for the most optimal performance of the online school?
A: Teachable supports Internet Explorer 11 and beyond. You can also use latest version of Google Chrome & Mozilla Firefox as well. Ensure you use latest version of recommended web browsers (IE or Chrome or Firefox). Sometimes a slow internet connection can cause problems at our school.
Here are a few trouble shooting tips if you are having trouble with your videos or audio:
-Temporarily disable any ad blocker extensions you may have
- Try clearing your browser cache
- It is also recommended to try again while using a private (incognito) browser window
- Make sure you are running the most recent up to date version of your internet browser
- If your browser is still not working well, then try a different browser option. We recommend Google Chrome or Mozilla Firefox
Q. Once I am going through the courses how do I download the documents referenced?
A. Here is a quick how to video on downloading documents
Q. I cannot hear any of the videos while they are playing?
A. Please make sure the volume is turned all the way up on the video itself and on your computer volume settings as well!
Q. How do I get a copy of my receipt/payments?
A. When a student purchases a course they automatically receive an
initial purchase receipt via email. If a student purchases a recurring pricing plan (e.g. a subscription or payment plan), then they will not automatically receive receipts for subsequent payments. This is also the receipt you would refer to for Tax Reporting purposes, so please keep this someone handy to refer back to if needed. You can request a copy of the initial purchase receipt if needed at any time.
Q: I have one login, how do I train the entire team and have each of them take the courses with just one login?
A: The best way to handle this is in a group setting, have them all in a room watching the videos and completing the lectures together. However, you can have multiple people logged in at once if it makes more sense, you just need to supply your login info to your team.
Q: What time frame do I give them to complete one section of the course?
A: There is no right or wrong way but we do recommend that if you can have everyone watch one Lesson (an example of a lesson is AppX Retention 1- Getting Started) then having a team meeting deadline of 1-2 weeks. Then serve up a lesson every 2 weeks thereafter. You should always follow the completion of each lesson with a team meeting to discuss. Make sure they have their printed workbooks readily available to reference during training.
Q: How often should I follow up in our AMS to monitor the teams progress?
A: We recommend to share the numbers every week!
Q: Can I assume that it will make tracking easier for the team if I create new activity codes in our AMS?
A: Yes! Also please make sure you watch the Management System Guide Training that is specific to your agency in the course.
Q: Do you currently provide support for EZLynx Agency Management System?
A: On Ezlynx we cannot record their software and there are no trainers that exist so we are a bit stuck on that.
Q: How often should I be meeting with my team and reviewing what is being learned?
A: We suggest weekly or bi-weekly team meetings.
Q: How do I get my lecture/lesson to register as "complete"?
A: When you are done watching all videos, reading through the lesson content, and completing any quizzes that apply you will need to click the "Complete & Continue" in order for that particular part of the lesson to register as complete. The circles to the left of the screen next to each lecture will then be checked off as complete and you can then move on to the next lesson.
***Also make sure you are scrolling all the way down the page to access the Quiz Links that need to be completed for the course to receive credit.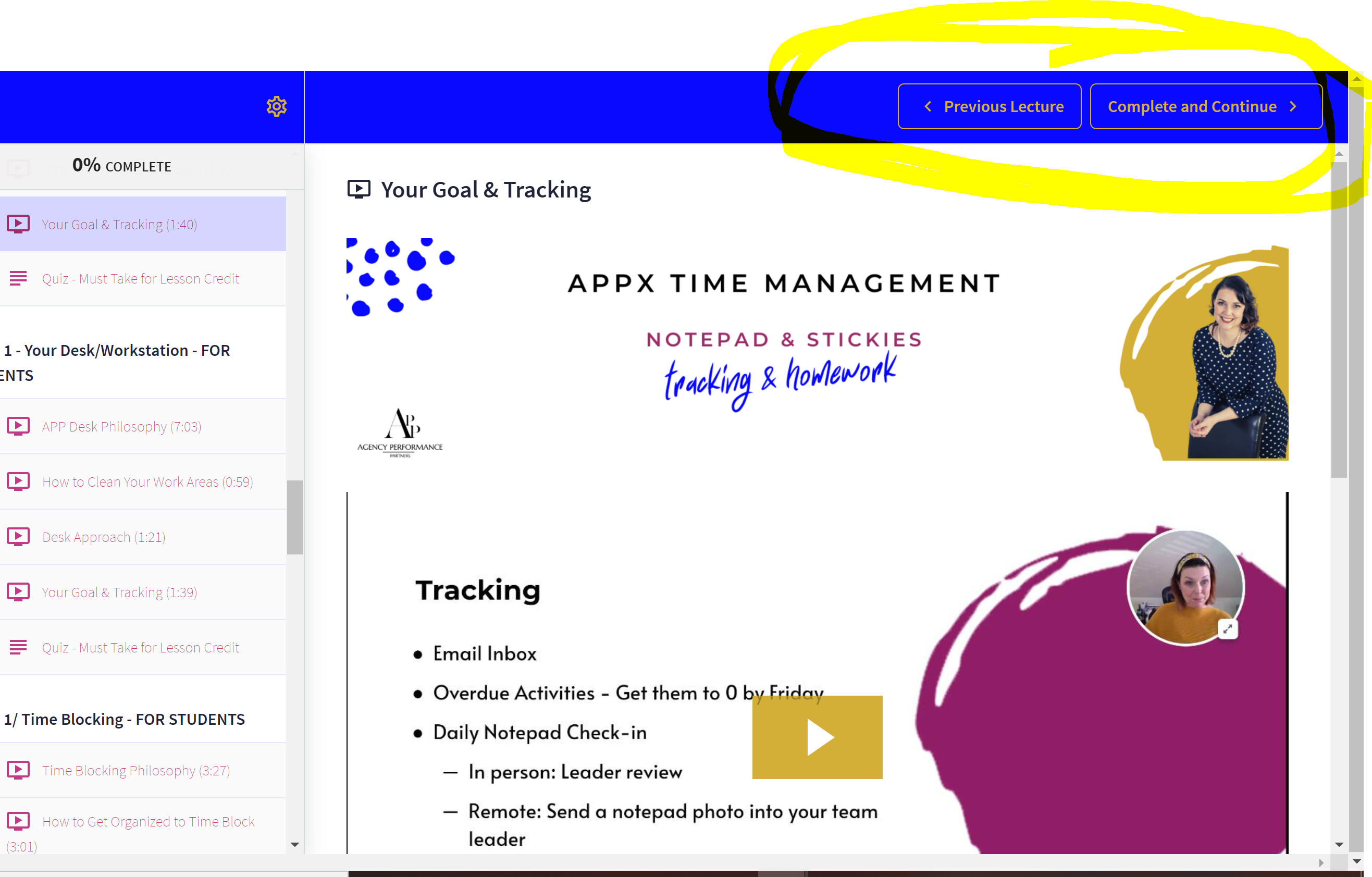 Q. Who can I contact for additional questions and further support?
A: Please email michelle@agencyperformancepartners.com or nicole@agencyperformancepartners.com