Accessing Form Letters
For this program there are two new documents to be added into the Form Letter Library. These are:
Account Review Retention Letter – Form letter to Email Template *AcctRev-Retention Email
Bad Contact Letter – USPS letter *AcctRev-Bad Contact Letter
1. On the AMS360 Toolbox Menu, click Form letters.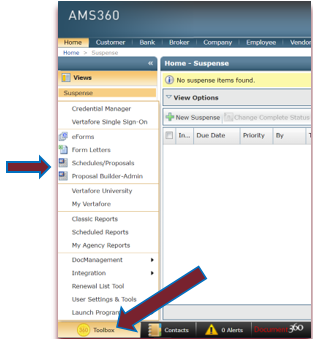 2. This will open the Forms Letter Window that is commonly used in day to day operations. We must access the Forms Letter Library to add new letters for use. Click on the Library Book Icon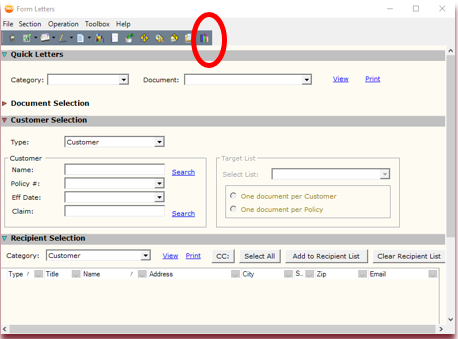 1. The Document Library Window will open. Click on New to add a new letter.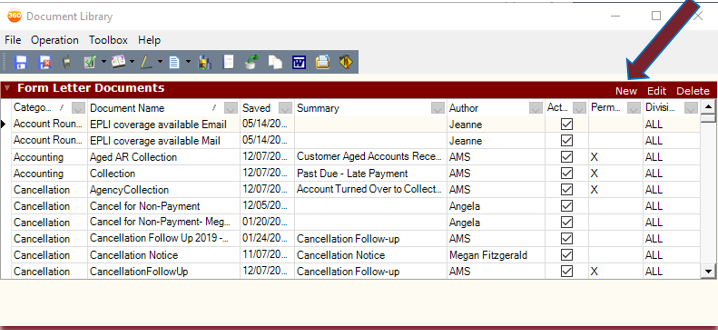 2. The New Form Letter Entry fields will be activated.
a. Choose a
Category
where the letter will be stored.
b. Enter in the
Name
of the Document.
c. You name has defaulted as the
Author
but can be changed is needed.
d. The
Form Letter Type
is Standard.
e. Merge Template
= AMS 360 V4.0 Base List
f. In the Summary Field, describe your letter and its purpose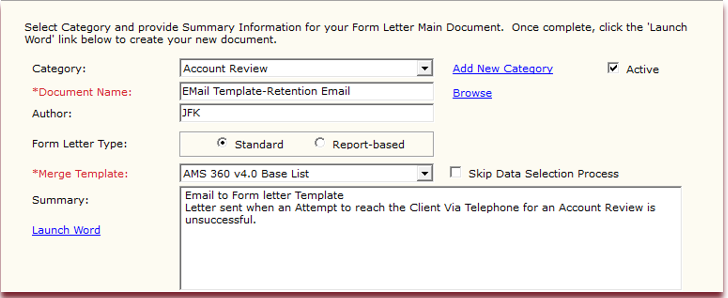 3. Note: You can also copy an existing form letter by selecting and clicking the Copy Icon to take advantage or existing merge fields and modify as necessary.
4. You are now ready to Launch Word.
5. Once in Word, you can add the Merge Fields that will pull Customer and Policy Data into the letter and you can free type your message body.
1. Note that the Word Window automatically opens on the Mailings Tab. This Tab contains the Insert Merge Field dialog that is needed to place the merge fields in the letter. In order to open the Merge Field Window as shown above, please click on the ICON instead of the text (Highlighted Above)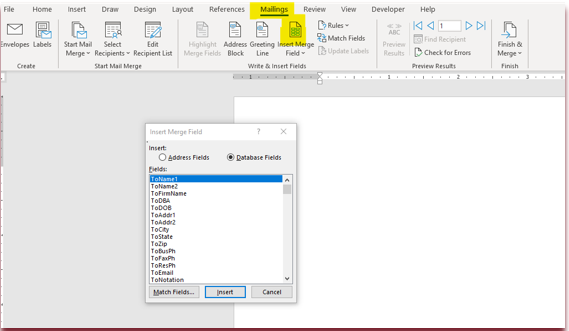 2. Leave the Database Fields radio button checked.
3. Use the Fields in the list and insert where needed.
4. Type the body of your letter, inserting merge fields as need. There are many fields to choose from. The Customer fields most commonly used have a prefix of Cust_
Policy fields most commonly used have a prefix of Bpol_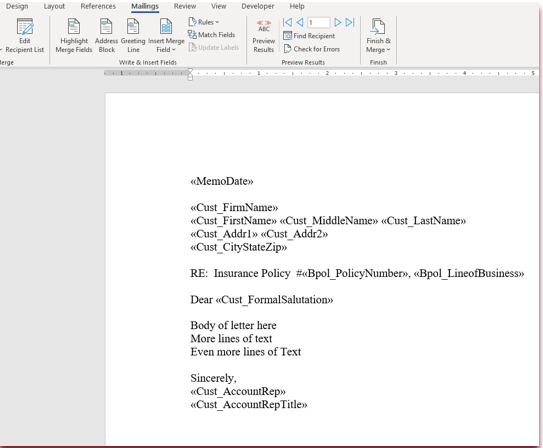 5. When you have finished designing the letter, Save the document in Word.
Close the Word window which will return you to the Document Library Window
6. Click on Save and Close to store the new letter in AMS360
7. Close out any remaining windows until you are completely out of the Form Letter dialog.
The letter is now ready for use!